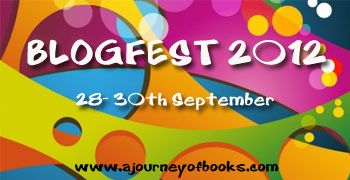 So here I am participating in what seems a wonderful way to get to know a lot of more blogs, have some fun and maybe win a book ;)
The difficult part? I completely forgot about this!!! Thank goodness Cinnamon, the organizer of Blogfest and blogger behind
A Journey of Books
sent out an email as a reminder, fiu!
So, I'm going to make this very easy (specially because I'm using my iPad to get this done xD)
Just use the Rafflecopter form and good luck!
The prize? I'm offering $20 to 1 winner to buy as many books as they want -with that money, of course- though BookDepo.
As long as they ship to your country you are free to enter ;)
Also,
there is a Grand Prize that one lucky participant of Blogfest will win! What is it? Well, a box full of goodies we book lovers will enjoy for sure!
So make sure to visit all the blogs ;) and keep track of the blogs you visit going
HERE
.
One commenter of this post will get 10 additional entries from me so don't forget to leave a comment.
And remember to keep hoping! I'm leaving the next 5 blogs after the Rafflecopter form so you don't miss them :]
a Rafflecopter giveaway
Next blogs:
-
Ex-Libris
-
Joyousreads
-
Tiffany's Bookshelf
-
The Tales of Dexter, Nora, and Chloe
-
Tall Tales from a Small Town
I apologize in advance if some of these blogs don't have their post up yet